एक इंस्टाग्राम फोटो पर उसके फॉलोवर अनुसार कही कमैंट्स आते है। ऐसे में आपकी Comments For Instagram बेहतरीन होगी। तो उसे अधिकांश लोगो द्वारा लाइक्स और तारीफों के रिप्लाई मिलेंगे।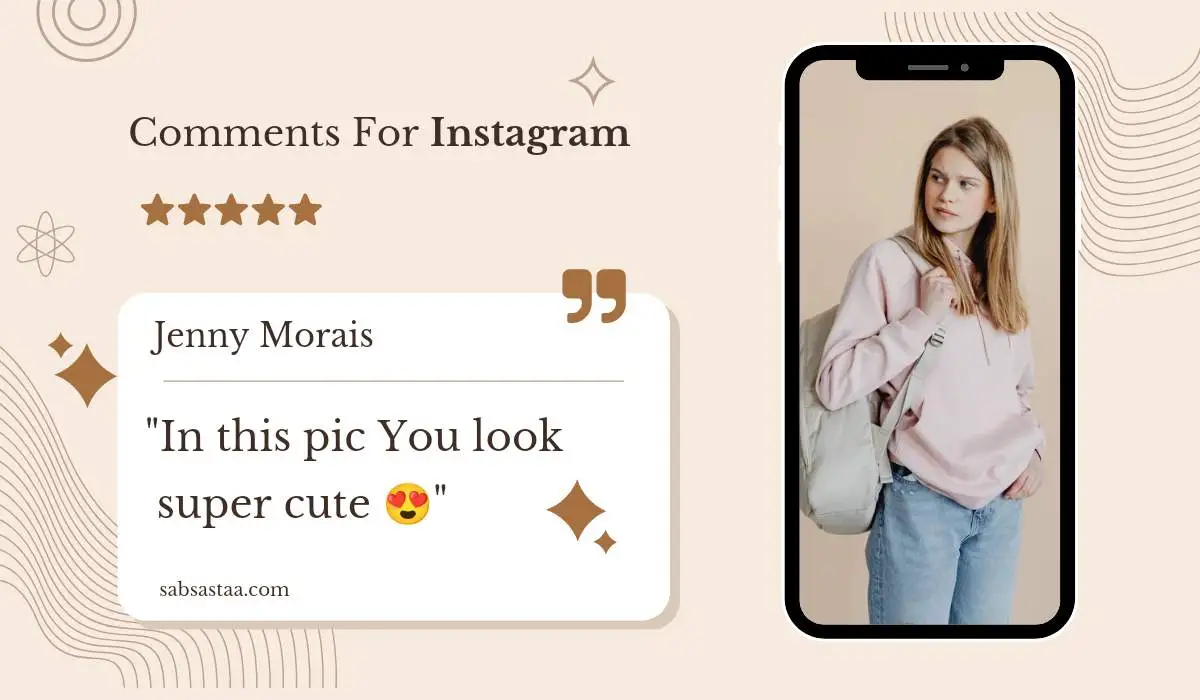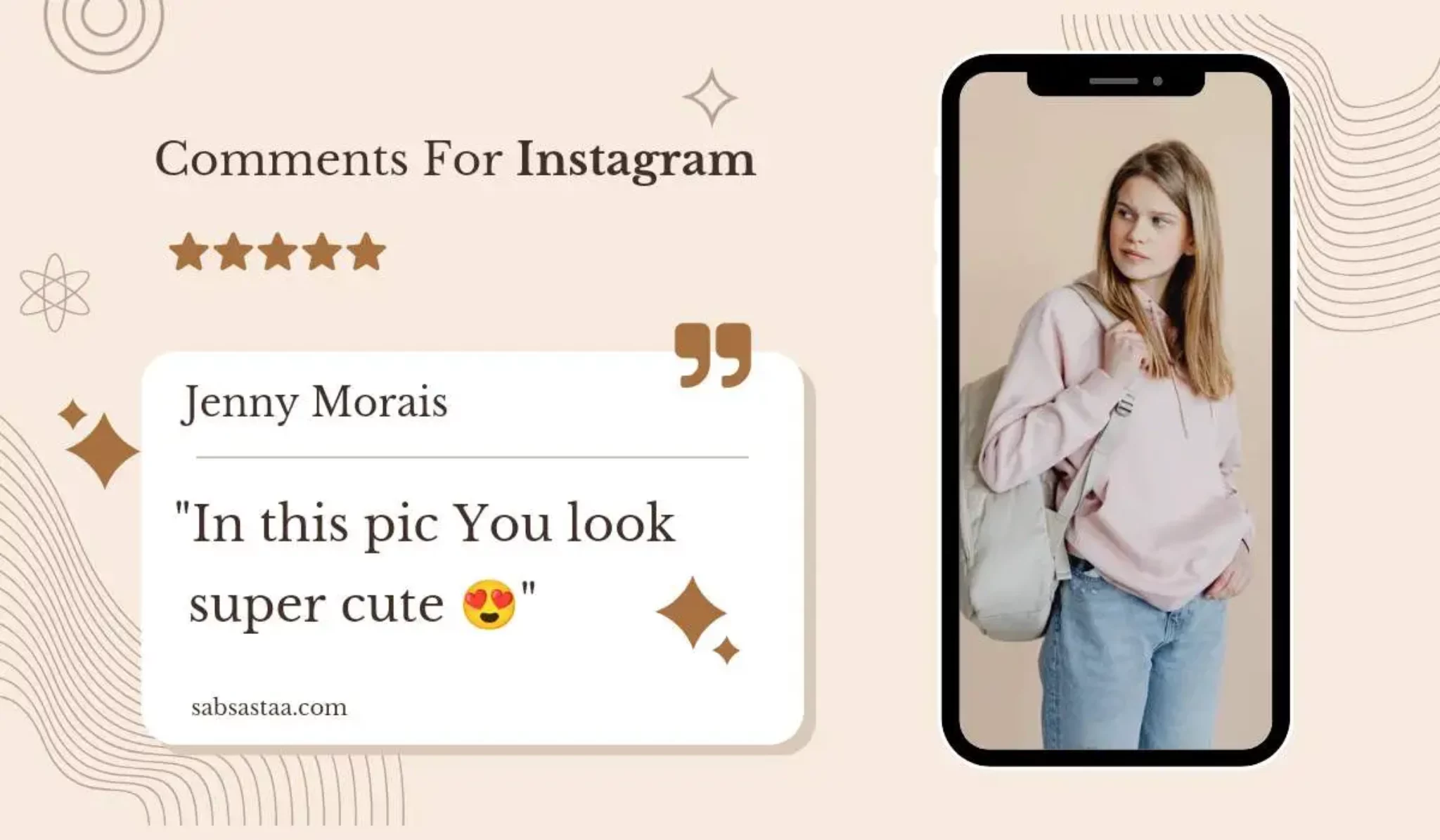 अधिकतर Instagram Comments 4 लोगो पर की जाती है।
Comment For Boy
Comment For Girl
Comment For Friend
Comment For Couple
इसके अलावा भी बहुत सी कमैंट्स होती है। जिसमे लोग अपनी अलग-अलग बातें लिखते है।
आपको ऐसी हजारो कमैंट्स में से सबसे अलग और यूनिक दिखना है? तो यहाँ बताई 250+ बेस्ट इंस्टाग्राम कमैंट्स आपकी पूरी सहायता करेगी।
Best Comments For Instagram Pictures
यहाँ बताये अधिकांश कमैंट्स आपको ज्यादा लाइक्स दिलाने में मदद करेंगे। साथ ही पोस्ट करने वाले यूजर को भी आपके कमैंट्स पसंद आएंगे।
लेकिन एक बढ़िया कमेंट करने से पहले कुछ विशेष बातों को जरूर ध्यान में रखे।
पहले देखे की कमेंट किस व्यक्ति के पोस्ट पर कर रहे है।
व्यक्ति की पर्सनालिटी और काम अनुसार कमेंट करना बेहतर है।
यदि लड़की है तो उस पर पुरे आदर भाव के साथ कमेंट करे।
लड़को की दोस्तों में फनी कमैंट्स ज्यादा अच्छे लगते है।
कपल के लिए उन्हें शुभकामना देने वाले कमेंट करने चाहिए।
बस इन सामान्य पॉइंट्स को समझ लिया, तो आपका इंस्टाग्राम कमेंट बिलकुल परफेक्ट बन जायेगा।
(1) Instagram Comments For Girls Pic
You are always new sensations !
Nice Pic ! 100 Out Of 100 🔥
Wow gorgeous…….
You really look gorgeous in this one !
You look so stunning 😍
You and your pic is totally fire 🔥
You look super cute ❣️
Wao looking so beautiful
An absolute example of perfect beauty !
Your smile is wow !
Your beauty is irresistible !
Your charm is genuinely irresistible.
In this pic You look super cute 😍
You have a fantastic body figure !
Damn in love with your dress !
(2) Unique Instagram Comment For Girl
This is amazing !
You are amazing my dear !
That's hot enough to beat the winters 🔥
I can't get my eyes off this pic !
shine like a star girl 💫
I won the jackpot with you !
You deserve the most beautiful things !
I'm in awe of your beauty.
OMG…. 😍 Cuteness overloaded !
Simply iconic, I'm in love! ❤
Classy shot and awesome background too !
I love this look on you !
Presenting…the best pic of instagram !
The classy shot looks so beautiful.
I am falling in love with this snap of you !
(3) Impressive Comments For Girl Photo
This outfit deserves applause !
Never seen a selfie of yours that I don't like !
This is the best picture I have come across today.
Impressive ! I have never seen a bad photo of you !
The hottest pal in town 🔥
Beautiful as always 😍
One word for this picture – Awesome !
Just stunning photos, I have ever seen !
Oh my! That smile is so cute 😍
Beautiful pearl in the world !
Hey, you are breaking the internet !
Hey, you are breaking the instagram server !
Blessing my Insta feed once again !
Just wow, keep smiling and shining like a diamond.
Besides chocolate, you are my favourite thing !
Stop, drop, and roll! My bestie is straight fire!
(4) Instagram Comments For Boys Pic
Excellent background view with your superpose !
You are the brightest star in the sky.
A very good morning sunshine 😅
What a nice selfie, my dear. It's just superb !
Omg!! your look steals my heart !
My forever friend you are !
Perfect and hansome boy on instagram 😎
Hey, Morning handsome !
Rise and Shine !
Your facial expressions are just WOW !
You make my heart smile 😅
You are a beautiful Person !
You and I are like a small gang !
You are a real gentleman 😎
Your style is impeccable !
(5) Comments for Instagram for a boy
You are the real handsome and gorgeous man !
Your pic is now breaking every pic's record !
You are super handsome in this photo 😍
Fabulous! You should try modelling.
Wow, nice pic, bro. I always wait for your post !
I can wait for best pics like you !
You look so handsome and innocent !
Oh god, new viral is starting 😍
My internet is breaking, don't post Such Hot stuff 🔥
Look at this men, he is so perfect !
Impressive and attractive pic, Excellent pose !
Now instagram understand, what is server crash !
I like it very much, Your very post is fantastic !
You have to pay tax for your amazing looks 😍
I have never seen elegance go out of style !
(6) Short Comments For Instagram Pic
The hottest influencer in town !
Beautiful smile !
Perfect Picture !
Perfect Capture !
Finally, a photo worth a billion !
Best pic on instagram !
Instagram saved your pic !
Just divinely gorgeous !
I need this picture framed !
You are the eighth wonder !
What a Captivating capture !
Oh…Real Beauty !
Looking classy and elegant !
You catch my heart !
Looking so trendy !
What an impressive picture !
Million-dollar smile !
You're killing it !
You look amazing !
Better than good !
(7) Comment For Best Friend Pic
The best picture of your profile !
You look so hot 🔥 The firefighters got calls !
You are getting more handsome day by day !
The crush of the city !
You are not just best friend, you are my family !
The word beauty is worthless without you !
This one is your best pic !
The most attractive man in the world !
Dear Friend, Can i rent your pic?
What a nice selfie !
This is something on pro level !
Not only stunning but also gorgeous !
Why does this post have more than a million likes?
Your refreshing beauty makes my day !
No can beat you in perfect photography.
True friends are like two bodies in one soul.
(8) Funny Comments For Instagram
Sending your pictures to NASA because you are a star!
Guess what I'm wearing? The smile you gave me!
hotter than hot chilly sauce 😉
You're the main cause of global warming !
I don't approve of this picture !
The scenery behind seems soberer than you !
Pic friend is stupid, but background is good !
Look at that #NoFilter Queen !
"The food is not that hot" the food:😩😩
You look pretty under these bright traffic lights !
Your makeup looks inspire me !
Are you buying likes?
Please do my makeup next friend hang !
My dream is for you to say hi to me !
My best friend is an artist!
(9) Best Comment For Couple Pic
My favorite couple ever !
Your pair is made in heaven !
Lots of love for you, two !
Feeling so happy for you both !
That's what you called a 'Perfect' match !
Best wishes for a new journey !
Seems like you both are made for each other !
You both look best for each other !
Best wishes for a new phase of life !
Just love to see you two together !
You both look so perfect for one another !
How lovely! You both look GREAT together !
Yes, that's what you call true love !
A glass of wine, just because of you two !
The cutest couple of the year !
(10) Best Instagram Comments In Hindi
Photo Se AAG Na Barsaaao Mere Bhai 🔥
Yeh hai india ka best pic 😍
Mera din ban gaya ye pic dekh kar !
Yaar, Tum itne khubsurat kaise ho 😍
Ab Instagram ke server down ho jayege !
Meri Most favorite wali picture 😍
Sundarta ka dusra naam ho tum !
2 Rupaye ki pepsi, bhai hai bada sexy !
Bandook ki goli aur bhai ki boli ! Dono Jabardast
Dekho Aur Sikho ! Best Pic Kya Hota Hai 😎
Mere bholenaath, is chehre par sada muskurahat rakho !
Mujhe yeh pic trending section me dikhi 🔥
Kuch to khas hai tum mein, Varna yuhi itne comments nahi aate !
OMG….Bhai itne saare likes 😍
ghar ka halwa aur bhai ka jalwa, khatm nahi hona chahiye !
Best Reply To Instagram Comments
एक बेहतरीन कमेंट लिखने के बाद उस पर लाइक्स और रिप्लाई मिलना शुरू हो जायेगे। ऐसे में आप भी अपनी कमेंट के प्रतिभाव में कुछ लिख सकते है। जैसे,
किसी ने सवाल पूछा है तो उसका जवाब लिखिए।
तारीफ़ लिखी है तो उसका धन्यवाद कीजिये।
उसकी बातों पर उसे अपना व्यू पॉइंट बताये।
इमोजी के साथ आभार व्यक्त कर सकते है।
आशा करता हु Comments For Instagram की बेहतर लिस्ट बना पाया हु। कमैंट्स अच्छे लगे हो तो पोस्ट को अपने दोस्तों के साथ भी जरूर शेयर करे।