Do you have sbi account and you want to know about unclaimed money? Then you came at the right place. Here we are sharing the SBI Unclaimed Deposits List 2023 with all the necessary details.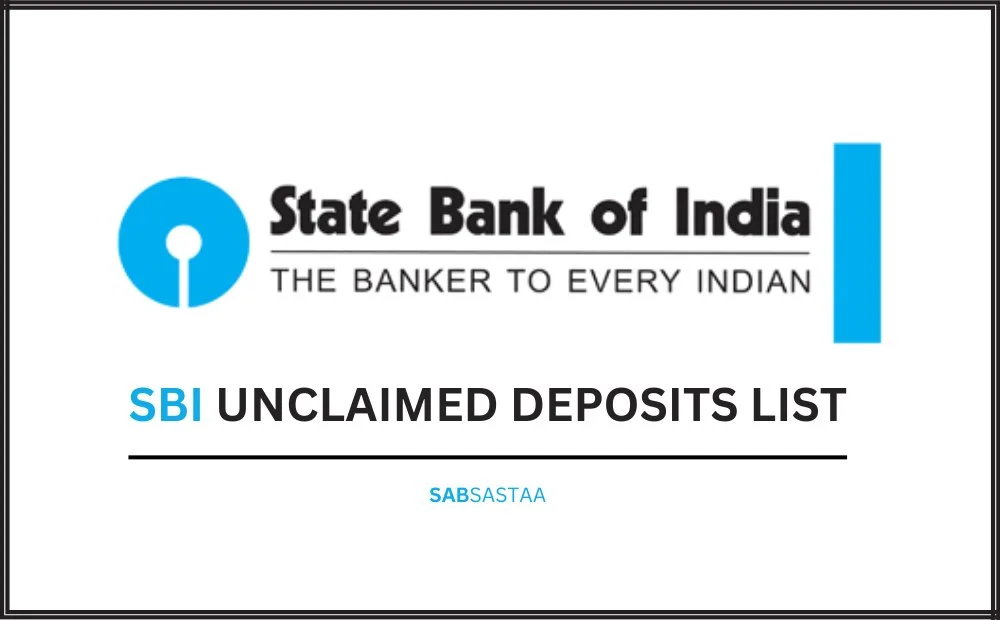 Recently, the State Bank of India (SBI) updated its list of unclaimed deposits for 2023. This list includes information about deposit accounts that have lain dormant for at least 10 years in SBI banks all over India.
According to RBI regulation, banks are required to periodically post this unclaimed deposit information to allow account holders to reclaim their money. Over ₹8,000 crores worth of unclaimed deposits are now held by SBI.
To reactivate their account, main account holders can check the list on the SBI website or go to their local branch. If these deposits are not claimed within the allotted time, the money will be transferred to the RBI.
SBI Unclaimed Deposits List 2023
The unclaimed deposits list contains various kinds of inactive accounts. For exmaple,
Saving Account
Current Account
Long Trem FD
Term Deposits
Safe Deposits
Safe Custody
Heritor Money
If These kind all of accounts are more than 10 years inactive, Then we could say is the unclaimed deposits.
In general savings accounts make up the largest share. As per RBI guidelines, an account is classified as unclaimed if there are no customer-induced transactions for 10 years.
The common reasons for accounts becoming inactive are death of the account holder, change of residence without intimating the bank, or simply forgetting about the account over time.
Having strong nomination facilities and updating contact details with banks can prevent accounts from becoming dormant.
Customers must check the unclaimed deposits list to identify their pending accounts.
Unclaimed Deposits List Of SBI Bank Details
| | |
| --- | --- |
| Bank Name | State Bank Of India |
| Unclaimed Deposits | ₹8,086 Crores |
| Official Website | https://sbi.co.in/web |
| Inactive Years | Past 10 Year |
| Process Level | Easy To Medium |
| Main Purpose | Promoting financial literacy and awareness among depositors |
How To Check SBI Unclaimed Deposits List 2023
Nowadays the process of checking unclaimed deposits list is very easy. You need to just follow below given steps.
(1) Open Main Website
SBI has a proper website or page, where you can check the list of unclaimed deposits. For access just visit on their official website.
(2) Enter Your Details
See above screenshot, you will landed on the same. Here you can find out the Inoperative Account Holders (More Than 9.5 Years) as on 31st July 2023.
In the first box enter your name.
In address field you can enter your city or village name.
At final enter the verification text and click on submit.
(3) Check Your Name
Now you can see the complete list of unclaimed deposits according to your name and address. For more accurate results you should enter proper name and your address as per banking records.
(4) Visit SBI Branch
If you done find out any account holder name, who is related your family. In next step, simply visit the nearest sbi branch. Fill out the "Claim Form" completely, including all required fields, and sign it. Don't forget to bring your passbook, deposit receipts, recent photos, a valid form of identification, and any other necessary original documents.
(5) Final Process
The application for payment of the unclaimed deposit will be handled by the SBI bank. They will perform the required due diligence and insure that KYC (Know Your Customer) regulations are being met. The bank will proceed to disburse the payment amount to you after the procedure is finished.
(6) Wait And Visit
After form procedure is completed, you need to wait 2 to 7 days. After that visit again to branch and check everything is on path or not. If something is missing out on your procedure, bank employee will guide you.
SBI Unclaimed Deposits List By RBI UDGAM
If you are unable to the visit sbi main website or something goes wrong. Then other option is the RBI UDGAM (Unclaimed Deposits Gateway to Access Information) website.
At this website first you need to register yourself for accessing the unclaimed deposits list.
After registration process is complete, login at Udgam portal with your mobile number and password.
Now you can search the unclaimed deposits list by entering the account holder's name or by directly inputting the PAN card number, voter ID, driving license number and date of birth.
Documents Required To Claim SBI Unclaimed Deposits
For most of people to claim sbi unclaimed deposits need some important documents.
SBI Account Passbook
Statements Of Account
Term Deposit Receipts
Valid Identity Proof
Valid Address Proof
2 To 4 Photographs
Passport Number
PAN/AADHAR Number
Customer Acknowledgment Slip
Birth Certificate
Death Certificate (If claimed by the legal heir/nominee)
SBI Unclaimed Deposits PDF Form
With the help of one simple form and necessary documents you can complete the whole process. To claim your unclaimed deposit money, download pdf from below link.
How To Fill Unclaimed Deposit Form
It's very simple, Just fill the below given details and your form will be completed.
Date – write current date
From – your city or village name
1st Name – main account holder
2nd Name – nominee details
Address – full address and pincode
DOB – date of birth
PAN – permanent account number
Mob – main mobile number
Signature – account holder's sign
FAQs
Here is the list of important faq's related to sbi unclaimed deposits.
(1) How much total unclaimed deposits in sbi bank?
According to the latest RBI data of 2023, SBI have more than 8,000 crores unclaimed deposits money.
(2) What are unclaimed deposits in SBI?
Basically these deposits refer to savings/current/term deposit accounts with SBI branches. Where no customer-induced transactions have taken place for 10 years or more.
(3) How can I check if I have any unclaimed deposits in SBI?
You can check the unclaimed deposits list published on the SBI website or visit your nearest branch. Your name/account will feature in the list if you have such inactive accounts.
(4) What happens if I don't claim my unclaimed SBI account?
If the accounts remain inactive for 10 years after being classified as unclaimed. The amounts have to be transferred by SBI to the RBI. Hence it is advisable to claim such deposits within the stipulated period.
(5) Can I claim back the funds if already transferred to RBI?
Yes, even after transfer of unclaimed amount to the RBI. You can submit your claim with the required documentation to get back your money.
Hopefully i informed you everything regarding to sbi unclaimed deposits. Please share this valuable information with your friends and family.